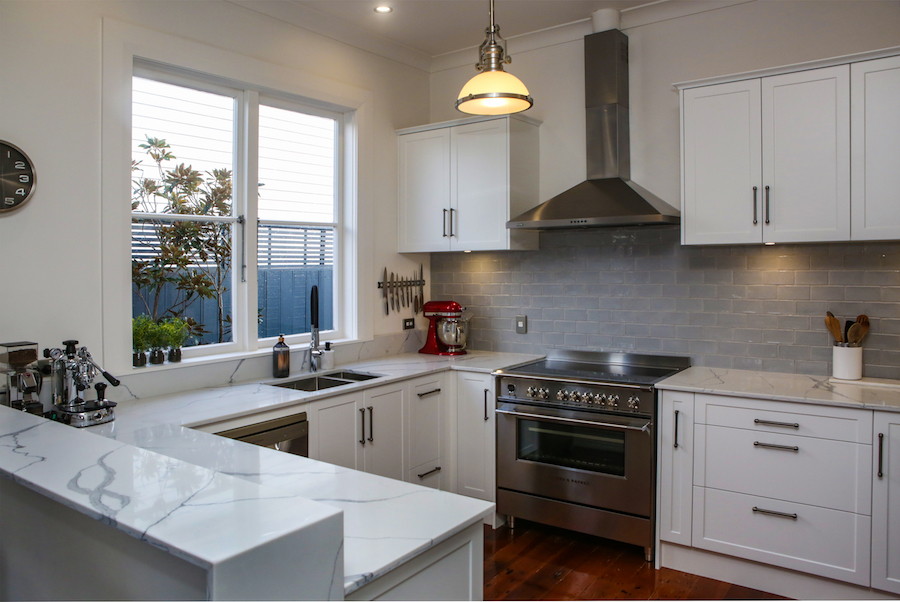 Kitchen design elements to inspire (part 2)
Livable spaces, Setting the mood and keeping it contemporary
As kitchens have increasingly become the hub of the home and a space for entertaining, so too have kitchen elements morphed into more than just functional aspects of life.
From creating a space that is livable for the day-to-day as well as evolving for entertainment, our second part of this series discusses the kitchen elements that set the mood while also ensuring contemporary functionality.
Dezignatek Cabinets (a touch of classic)
Also known as Vacuum Formed Vinyl Cabinets, Dezignatek provide a beautiful, versatile, clean-line look to your kitchen that also has the advantage of being very hard wearing. Perfect in your modern kitchen that represents the hub of your home!
Vacuum Formed Vinyl technology has been around for over forty years internationally and is created by vacuuming a vinyl skin onto the face of water resistant mdf doors. This technology allows you to personalise your kitchen design to include patterned, textured, satin or gloss finishes on your kitchen cabinets that will look great and stand the test of time. In conjunction with our AQUAL-SEAL technology, your cabinets will look contemporary while withstanding moisture for years to come.
Lighting (setting the mood)
Having effective lighting in your kitchen design is fundamental to the overall function of your kitchen. However, kitchen lighting is comprised of so much more than just lighting from the ceiling. Available in various modern features to fit seamlessly into your kitchen design, there exists a fantastic range of quality kitchen lighting to suit your lifestyle requirements.
You may want to highlight a specific design feature in your kitchen, or a task area for kitchen work such as a benchtop or cook top. Under-bench kitchen lighting is a great option to utilise for specific purposes such as these, as it allows you to add extra light to spaces you would like to highlight or enhance.
Mood lighting is an important point to consider, particularly if your kitchen design is open plan to include a dining or social space. Your lighting design should match the mood you would like to create. Sensor & Motion Remote Control dimmer lighting is an efficient way to create an intimate atmosphere around the dining area, while still maintaining the lighting you may need in other parts of your kitchen at the same time.
Livable Spaces (making it work for you)
A great kitchen design is not only about choosing the right components for your kitchen but also choosing the right placement for them. Getting the layout right will give you a kitchen that's a joy to be in with everything in a logical place that works for you.
Gone are the days where the ideal kitchen has everything within arms reach or a few steps. Today's kitchens are multi-functional open plan spaces featuring numerous appliances and which are often designed around entertaining or family time. To cater to this new style of kitchens the concept of a kitchen "work zone" has emerged.
The right design and layout approach depends on the size of your kitchen, your needs and how you want to use your kitchen. It's always best to discuss your kitchen design aspirations with a professional kitchen designer who will be able to craft your vision and ensure it suits the style and space of your home. The Jag Kitchens Design Team have the experience to step you through your options and help you achieve a design layout that works for you and your lifestyle, as well as your budget.
Book your obligation-free design appointment via the button below, call us on 09 271 3131 or visit our Showroom at the Botany Town Centre, next to Danske Mobler.